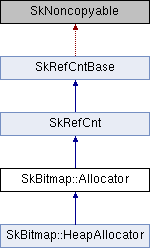 void 
internal_dispose_restore_refcnt_to_1 () const
 
Allow subclasses to call this if they've overridden internal_dispose so they can reset fRefCnt before the destructor is called or if they choose not to call the destructor (e.g. More...

 
Allocate the pixel memory for the bitmap, given its dimensions and colortype.
Return true on success, where success means either setPixels or setPixelRef was called. If the colortype requires a colortable, it also must be installed via setColorTable. If false is returned, the bitmap and colortable should be left unchanged.
Implemented in SkBitmap::HeapAllocator.
---
The documentation for this class was generated from the following file: